Therm Line Man
FOR MEN SEEKING TO REDUCE BODY WEIGHT
Preparations for men
Slimming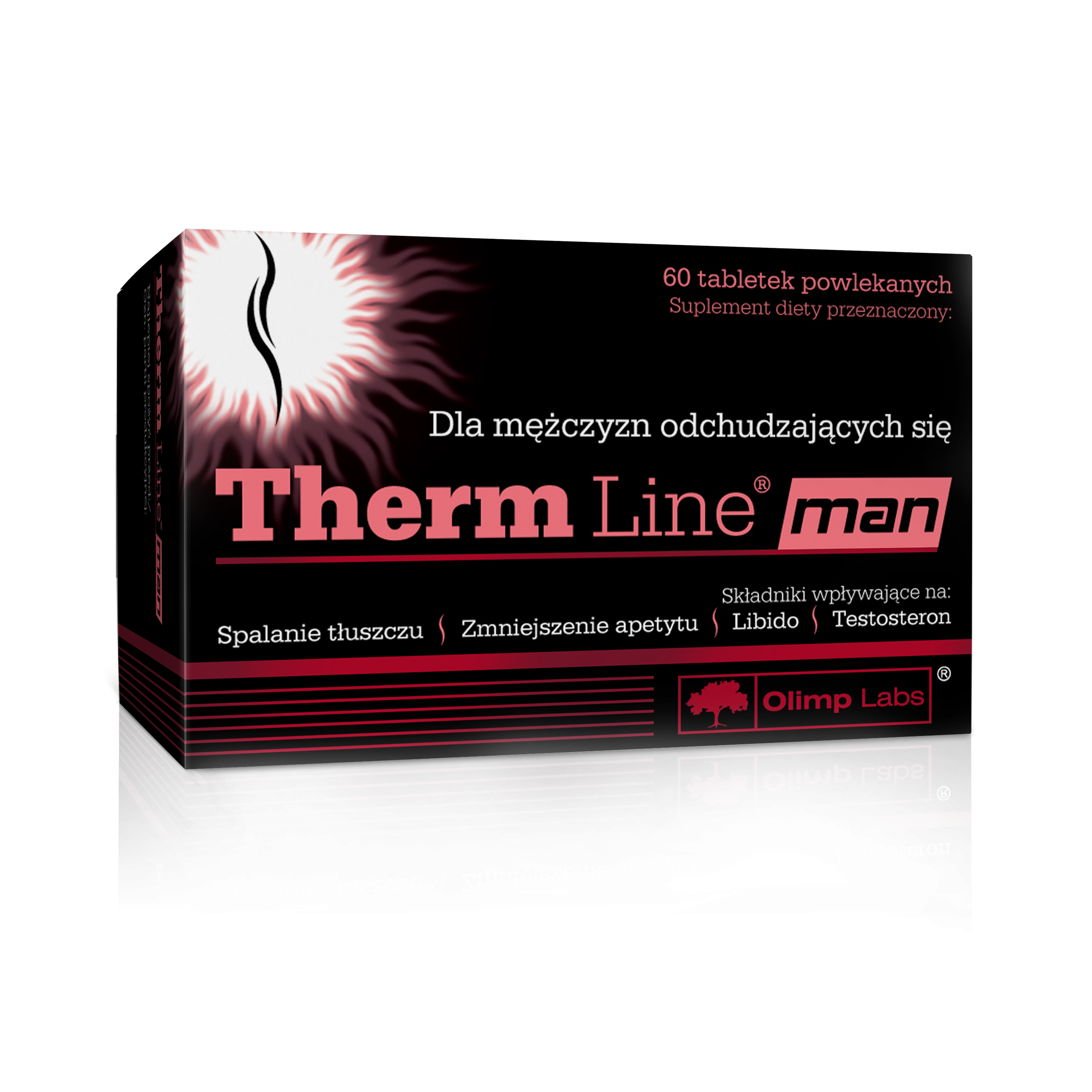 60 tablets
Dietary supplements
Product description
Therm Line Man is a food supplement containing a unique combination of ingredients which contribute to maintaining healthy weight and enhance men's libido.
Garcinia cambogia contains hydroxycitric acid (HCA), which inhibits the synthesis of lipids and their deposition in the body.
Cayenne pepper, which is the source of capsaicin, and bitter orange contribute to burning fat.
Gymnema sylvestre contributes to reducing hunger and appetite for sweets.
Ginseng extract enhances men's libido while enhancing vitality and sexual condition and helping to trigger and enhance erection.
Zinc helps to maintain proper testosterone levels, selenium is involved in protecting cells from an oxidative stress.
Ingredients
Nutritional information
4 tablets
Garcinia cambogia extract

1250 mg

---

including: hydroxycitric acid HCA

750 mg

---

Bitter orange extract

316 mg

---

Caffeine (caffeine anhydrous and Sinetrol®)

281,6 mg

---

---

Gurmar leaf extract

200 mg

---

including: gymnemic acids (25%)

50 mg

---

Korean ginseng extract

---

---

Cayenne pepper extract

160 mg

---

including: capsaicin (8%)

12,8 mg

---

40 mg

---

---

40 mg (250% *)

---
*NRV - nutrient reference value.
Ingredients
Ingredients: extract of Garcinia cambogia fruit skin, bulking agent – microcrystalline cellulose, bitter orange extract (Citrus aurantium L.), caffeine anhydrous, gurmar leaf extract (Gymnema sylvestre), Korean ginseng extract (Korean Panax Ginseng), cayenne pepper fruit extract (Capsicum annuum L.), glazing agents – polyvinyl alcohol, polyethylene glycol, talc; bulking agent cross-linked sodium carboxymethylcellulose; zinc bisglycinate, SINETROL® – a patented guarana and citrus fruits extract (Citrus sinensis L. Osbeck, Citrus grandis, Citrus aurantium var. dulcis, Paullinia cupana), nicotinic acid – niacin, black pepper extract (Piper nigrum L.), sodium selenite (IV), anti-caking agents – silicon dioxide, magnesium salts of fatty acids, a colour – titanium dioxide.
Purpose
Product intended: as a food supplement for adults, especially for men seeking to reduce body weight, dieting.
Dosage
Recommended use: 2 tablets 2 times a day, with plenty of water, approximately 30 minutes before breakfast and lunch or workout.
Do not exceed the recommended daily dose.
Food supplements should not be used as a substitute for a varied and balanced diet.
A varied and balanced diet and a healthy lifestyle are recommended.
Note: Contains caffeine; not recommended for children and pregnant women (caffeine content: 281.6 mg / 4 tablets). Should not be used by women who are breastfeeding, people with heart disease, hypertension, or in case of hypersensitivity to any of the components.
Manufacturer
OLIMP LABORATORIES Sp. z o. o.
Pustynia 84F
39-200 Dębica

Why is it worth choosing Olimp Labs products?
We focus on the highest quality of our products for the sake of our customers health and well-being. See how we implement processes to meet the universal requirements and standards of the pharmaceutical industry.
01. Research and development
02. Quality control
03. Research Center
04. Cooperation
05. Management
01
Research and development
The entire production process is subject to detailed controls – from the purchase of raw materials and packaging, through production, storage and transport. We systematically improve all stages of production using the latest technological solutions. We do not rely only on suppliers' certificates, we subject the raw materials to additional tests. Each of our products meets the requirements set by Polish laws and common European standards.
02
Quality control
Our production lines meet the highest pharmaceutical requirements for the production of drugs and medical products. We meet the standards of Polish law and commonly used global pharmaceutical industry standards. The high quality of our products is acknowledged with awards and certificates awarded to Olimp Labs by certifying institutions as well as the scientific and consumer communities.
03
Research Center
The Olimp Labs Research and Development Center makes it possible to uphold the highest quality and safety standards during the production of pharmaceuticals and dietary supplements. In our state of the art laboratories and research centers, we conduct innovative research and analyzes, including clinical and stability tests of pilot products.
04
Cooperation
An important element of Olimp Labs' work is scientific research focused on pharmacy, dietetics and physiology. Our qualified staff works in tandem with scientific and research units, sports associations and athletes, improving the formulations of products introduced to the market and providing advisory services to external entities both domestic and international.
05
Management
We are responsible for the health and wellbeing of our clients, therefore we focus on the importance of the quality of raw materials used. Thanks to our constant research and analyzes we can attest to the certified effectiveness of our products.
Create a your own first aid kit with Olimp Labs products and double your profits:
take care of your health with top-quality preparations
receive attractive prizes from the Olimp Premium Club program
Choose health, get rewards!
Olimp Premium Club
DOWNLOAD THE OLIMP PREMIUM CLUB MOBILE APP AND RECEIVE GUARANTEED AWARDS!
Olimp Premium Club is a unique loyalty program in which we reward each purchase, and the first prizes can be collected after only purchasing a few preparations.
Choose from hundreds of prizes available in our catalog, or contact us and pitch your dream prize, collect points and we will do the rest!
Look how easy it all is!
install the Olimp Premium Club application
buy Olimp Labs products
scan QRcodes on product packages
choose and order attractive prizes,
Install the Olimp Premium Club application today and lets reach for your dreams together!
The application is available for both Android and iOS
The highest standards
Our governing value is the pharmaceutical quality of products, which guarantees safety.
Our standards are backed by numerous certificates (incl. GMP, GLP).
Quality