Ferti Lady
FOR WOMEN DURING OFFSPRING PLANNING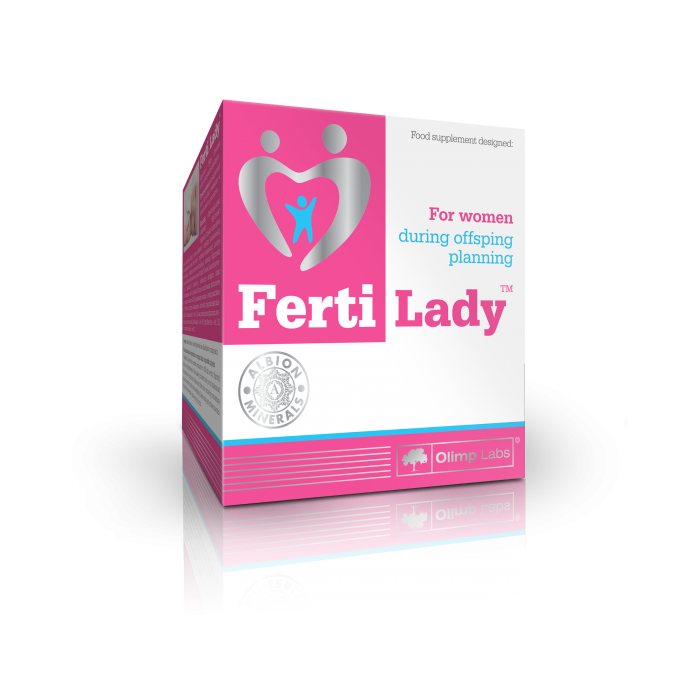 15 saschets
Dietary supplements
Product description
Ferti Lady™ is a food supplement which provides important nutrients to support the functioning of the female body during attempts at conception. Diet is one of the factors that have an influence on the proper fertility and health of the future mother and also on the development of the foetus. When planning to have a child, a properly balanced diet can become a chief asset. Zinc, which helps to maintain the proper fertility, reproductive functions and synthesis of genetic material (DNA), plays an important role during this period. Together with folic acid, it takes part in the division of cells that are essential in oogenesis. Folic acid also contributes to the growth of the mother's tissues during pregnancy. Vitamin B6 is involved in the regulation of hormone activity, vitamin A plays a role in the process of cell specialization, while vitamins C and E and selenium protect cells against oxidative stress. Magnesium supports the proper functioning of the nervous system and contributes to reducing the feeling of tiredness and weariness of the body.
Obtaining the highest levels of magnesium and zinc in the body is possible due to highly absorbable Albion® amino acid chelates that are the source of these elements in the product.

Ingredients
Nutritional information
1 sachet
AAKG

6150 mg

---

of which L-arginine

4000 mg

---

Coenzyme Q10

10 mg

---

Magnesium

60 mg (16%*)

---

Zinc

12 mg (120%*)

---

Selenium

80 μg (145%*)

---

Vitamin D

5 μg (100%*)

---

Vitamin E (mg α-TE)

18 mg (150%*)

---

Vitamin C

100 mg (125%*)

---

Vitamin B1

1,1 mg (100%*)

---

Vitamin B2

1,4 mg (100%*)

---

Vitamin B6

2,1 mg (150%*)

---

Vitamin B12

2,5 μg (100%*)

---

Folic acid

400 μg (200%*)

---

Biotin

50 μg (100%*)

---

Pantothenic acid

6 mg (100%*)

---

Niacin (mg NE)

16 mg (100%*)

---
*NRV - nutrient reference value.
Ingredients
Ingredients: L-arginine alpha-ketoglutarate, magnesium bisglycinate, acidity regulator – malic acid; maltodextrin, acidity regulator – citric acid; anti-caking agent – silicon dioxide; aroma, zinc bisglycinate, L-ascorbic acid – vit. C, sweeteners – acesulfame K, sucralose; DL-alpha-tocopheryl acetate – vit. E, sodium selenite, nicotinamide – niacin, coenzyme q10, calcium D-pantothenate – pantothenic acid, D-biotin, colour – beta-caroten; cyanocobalamin – vit. B12, cholecalciferol – vit. D, pteroylmonoglutamic acid – folate, pyridoxine hydrochloride – vit. B6, riboflavin – vit. B2, thiamin mononitrate – vit. B1.
Dosage
Recommended use: 1 sachet a day.
Manufacturer
OLIMP LABORATORIES Sp. z o. o.
Pustynia 84F
39-200 Dębica
Why is it worth choosing Olimp Labs products?
We focus on the highest quality of our products for the sake of our customers health and well-being. See how we implement processes to meet the universal requirements and standards of the pharmaceutical industry.
01. Research and development
02. Quality control
03. Research Center
04. Cooperation
05. Management
01
Research and development
The entire production process is subject to detailed controls – from the purchase of raw materials and packaging, through production, storage and transport. We systematically improve all stages of production using the latest technological solutions. We do not rely only on suppliers' certificates, we subject the raw materials to additional tests. Each of our products meets the requirements set by Polish laws and common European standards.
02
Quality control
Our production lines meet the highest pharmaceutical requirements for the production of drugs and medical products. We meet the standards of Polish law and commonly used global pharmaceutical industry standards. The high quality of our products is acknowledged with awards and certificates awarded to Olimp Labs by certifying institutions as well as the scientific and consumer communities.
03
Research Center
The Olimp Labs Research and Development Center makes it possible to uphold the highest quality and safety standards during the production of pharmaceuticals and dietary supplements. In our state of the art laboratories and research centers, we conduct innovative research and analyzes, including clinical and stability tests of pilot products.
04
Cooperation
An important element of Olimp Labs' work is scientific research focused on pharmacy, dietetics and physiology. Our qualified staff works in tandem with scientific and research units, sports associations and athletes, improving the formulations of products introduced to the market and providing advisory services to external entities both domestic and international.
05
Management
We are responsible for the health and wellbeing of our clients, therefore we focus on the importance of the quality of raw materials used. Thanks to our constant research and analyzes we can attest to the certified effectiveness of our products.
The highest standards
Our governing value is the pharmaceutical quality of products, which guarantees safety.
Our standards are backed by numerous certificates (incl. GMP, GLP).
Quality