Olimp Collagen powder
FISH COLLAGEN. LET YOUR BEAUTY GLOW!1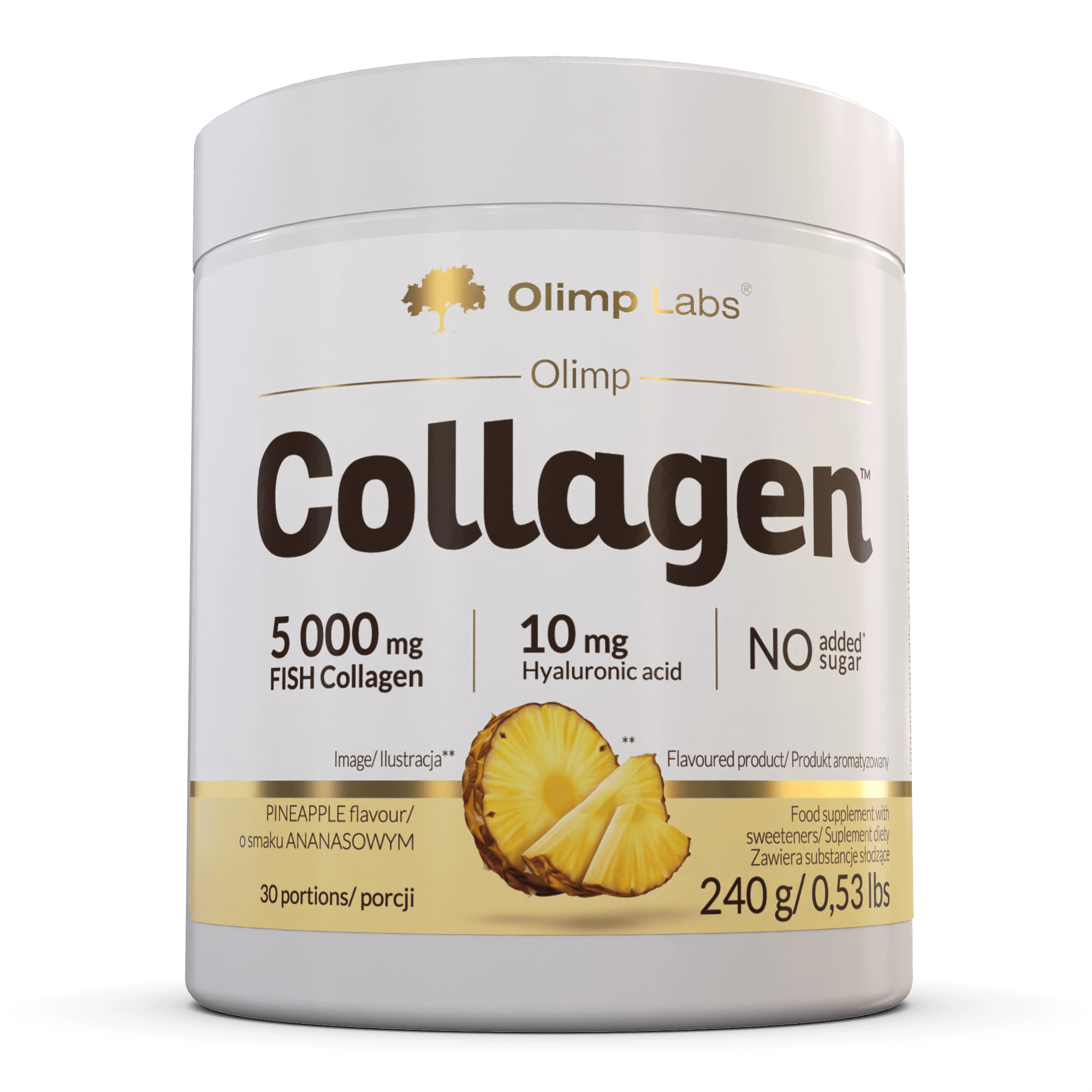 240 g
Dietary supplements
Product description
Olimp Collagen® is a food supplement in a form of powder with hydrolized fish-derived collagen ECOllagen®, hyaluronic acid and vitamins carefully selected due to their unique properties. The product is perfectly tailored to the needs of women who dream about glowing and healthy-looking skin, beautiful hair and strong nails1.
The composition of Olimp Collagen powder includes:
ECOllagen® – 5 000 mg of highly-absorbable fish collagen hydrolysate of a low molecular weight (1000-2000 Da),
Hyaluronic acid – is widely used in moisturizing skincare procedures due to its water bonding properties2,
Vitamin C – contributes to normal collagen formation,
Vitamin A, vitamin B2 and biotin – help maintain healthy skin,
Selenium – helps maintain healthy hair and nails and protects cells against oxidative stress,
Grape seed extract – has antioxidant properties, thanks to which it helps neutralize the effects of free radicals,
Ashwagandha extract with a general rejuvenating effect.
A food supplement Olimp Collagen powder is a beauty product with a unique composition of active ingredients and of a delicious, pineapple flavour.  With sweeteners. No sugar. Contains naturally occurring sugars.
1 Due to biotin and selenium present in the product composition. Biotin helps maintain healthy skin and hair. Selenium helps maintain healthy hair and nails.
2Dermatoendocrinol. 2012 Jul 1; 4(3): 253–258
Ingredients
Nutritional information
1 portion (8 g)
Fish collagen ECOllagen®

5 000 mg

---

Hyaluronic acid

10 mg

---

Vitamin C

160 mg (200%)

---

Vitamin A

800 µg (100%)

---

Vitamin E

12 mg (100%)

---

Vitamin D

5 µg (100%)

---

Thiamin (vit. B1)

1,1 mg (100%)

---

Riboflavin (vit. B2)

1,4 mg (100%)

---

Niacin

16 mg (100%)

---

Pantothenic acid

6 mg (100%)

---

Vitamin B6

1,4 mg (100%)

---

Vitamin B12

250 µg (500%)

---

Biotin

200 µg (100%)

---

Folic acid

2,5 µg (100%)

---

Selenium

27,5 µg (50%)

---

Copper

0,5 mg (50%)

---

Ashwagandhy KSM-66® root extract

50 mg

---

of which: withanolides (5%)

2,5 mg

---

Grape seed extract (Vitis vinifera L.)

25 mg

---

of which: proanthocyanidins (95%)

23,75 mg

---
*NRV - nutrient reference value.
Ingredients
ECOllagen® fish collagen hydrolyzate (fish), maltodextrin, aromas, acidity regulator – malic acid; vitamins (L-ascorbic acid – vitamin C, DL-alpha-tocopheryl acetate – vitamin E, nicotinamide – niacin, retinyl acetate – vitamin A, calcium D-pantothenate – pantothenic acid, cholecalciferol – vitamin D, hydrochloride pyridoxine – vitamin B6, riboflavin – vitamin B2, thiamine mononitrate – thiamine (vit. B1), D-biotin – biotin, pteroylmonoglutamic acid – folic acid, cyanocobalamin – vitamin B12), ashwagandha root extract KSM-66® ( Withania somnifera (L.) Dunal), sweeteners – acesulfame K, sucralose; grape seed extract (Vitis vinifera L.), copper bisglycinate (Albion™ copper amino acid chelate), sodium selenate (IV).
Manufactured on a production site that uses derivatives of milk, eggs, soy, nuts, peanuts, cereals containing gluten, crustaceans, molluscs.
Purpose
Intended use: a product intended for adults who want to maintain the beautiful and healthy appearance of their skin, hair and nails.
Dosage
Recommended daily dose: 1 serving daily after a meal. Dissolve 1 portion (8 g of powder = 1 measuring spoon) in 250 ml of water or other drink, using a shaker for at least 10 seconds. Consume immediately after preparation. Always close the package tightly after use.
Do not exceed the recommended daily dose. Food supplements should not be used as a substitute for a varied and balanced diet. A varied and balanced diet and a healthy lifestyle are recommended.
Warning: do not use in children, pregnant and breastfeeding women or in case of hypersensitivity to any of the ingredients. Do not use in people who are predisposed to the formation of kidney stones or suffer from kidney stones.
Manufacturer
Olimp Laboratories Sp. z o.o.
Pustynia 84F
39-200 Dębica

Why is it worth choosing Olimp Labs products?
We focus on the highest quality of our products for the sake of our customers health and well-being. See how we implement processes to meet the universal requirements and standards of the pharmaceutical industry.
01. Research and development
02. Quality control
03. Research Center
04. Cooperation
05. Management
01
Research and development
The entire production process is subject to detailed controls – from the purchase of raw materials and packaging, through production, storage and transport. We systematically improve all stages of production using the latest technological solutions. We do not rely only on suppliers' certificates, we subject the raw materials to additional tests. Each of our products meets the requirements set by Polish laws and common European standards.
02
Quality control
Our production lines meet the highest pharmaceutical requirements for the production of drugs and medical products. We meet the standards of Polish law and commonly used global pharmaceutical industry standards. The high quality of our products is acknowledged with awards and certificates awarded to Olimp Labs by certifying institutions as well as the scientific and consumer communities.
03
Research Center
The Olimp Labs Research and Development Center makes it possible to uphold the highest quality and safety standards during the production of pharmaceuticals and dietary supplements. In our state of the art laboratories and research centers, we conduct innovative research and analyzes, including clinical and stability tests of pilot products.
04
Cooperation
An important element of Olimp Labs' work is scientific research focused on pharmacy, dietetics and physiology. Our qualified staff works in tandem with scientific and research units, sports associations and athletes, improving the formulations of products introduced to the market and providing advisory services to external entities both domestic and international.
05
Management
We are responsible for the health and wellbeing of our clients, therefore we focus on the importance of the quality of raw materials used. Thanks to our constant research and analyzes we can attest to the certified effectiveness of our products.
The highest standards
Our governing value is the pharmaceutical quality of products, which guarantees safety.
Our standards are backed by numerous certificates (incl. GMP, GLP).
Quality